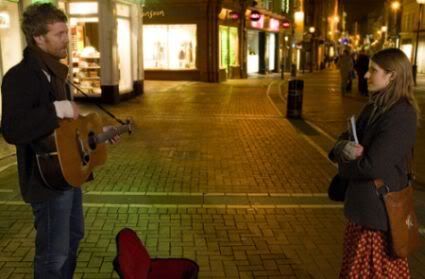 The Cast
Glen Hansard ... Guy
Markéta Irglová ... Girl
Gerard Hendrick ... Lead Guitarist
Bill Hodnett ... Guy's Dad
Danuse Ktrestova ... Girl's Mother
Sean Miller ... Bank Manager
Geoff Minogue ... Eamon
Marcella Plunkett ... Ex Girlfriend
Hugh Walsh ... Timmy Drummer
Normally when one sees a particularly inspiring film and falls in love with every aspect of it, one would often seek out the soundtrack album to further enjoy the film on different levels. My experience with
Once
was completely the opposite of that. About six months or so ago, I noticed that the soundtrack album for this movie I had somehow never heard of was decently selling. I popped into the CD player at work and for the next couple weeks at work, listened to that CD top to bottom numerous times. Needless to say, it heightened my anticipation for seeing the movie that by that point I'd researched enough to glean that it sounded like a movie I would truly enjoy. Since I'd already fallen in love with the soundtrack, I bought the movie the day it came out on DVD... which was today.
The film is a semi-autobiographical tale penned by the director of the movie, John Carney, from his own experiences of being in a band and a past significant other. Cilian Murphy dropped out of starring in the film because he couldn't hit many of the high notes in the songs that
The Frames
' singer and songwriter Glen Hansard brought to the project. Since Carney used to be in The Frames with Hansard, Carney knew what Hansard brought to the table and subsequently brought him in as the unnamed lead (always referred to in reviews and the cast list as "Guy") in the film. Same thing with Hansard's co-star, Markéta Irglová (Girl), except that it was Hansard that had previously worked with Irglová, not Carney.
The film begins with a few scenes introducing us to Guy, showing us all the passion and fire that he possesses as he performs one of his songs in a Dublin shopping district. Soon enough, Girl shows up seemingly captivated by the music of Guy as he belts out one of his creations,
singing with his eyes closed
and completely lost in his performance to an audience of one. Brought together by their mutual love of creating music, they soon befriend one another and begin to collaborate on songs that Guy had written. Much of the story of the film is best left experienced and not told to you, so that's all the beans that I'll spill.
I'm not sure how well the film will work for those that don't already enjoy the soundtrack, which is a fairly odd thing indeed. I found myself singing along with many of the songs during the film, simply because I had experienced them for so long before I even saw the context they were used in the movie. Even though there's absolutely nothing flashy about the movie at all, there are scenes throughout that crackle with electricity from the performances of the two leads. Not to mention the wonderful studio recording scene that almost veers into the Hollywood music movie archetype, but is brought back by the sheer authentic vibe the movie carries throughout.
Normally I'd say a musical film isn't a movie for everyone, but this isn't your typical musical movie. Characters don't spontaneously burst into song and have garishly choreographed dance numbers about their love life. There are numerous song performances, so many that you almost feel as if you're watching a documentary at times, but they never feel forced. Quite simply,
Once
is definitely one of the highlights of the movie year and should be experienced by every movie lover. I feel confident that it will find a lofty place on my best of the year list.
4.5 / 5
Current Mood:

thirsty

Current Music:

Tenacious D - City Hall