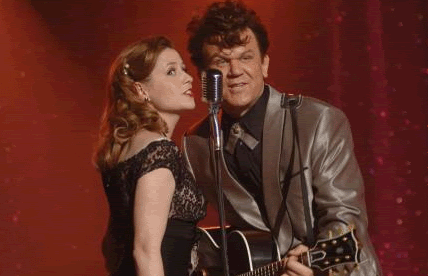 The Cast
John C. Reilly ... Dewey Cox
Kristen Wiig ... Edith Cox
Jenna Fischer ... Darlene
Chris Parnell ... Theo
Tim Meadows ... Sam
Matt Besser ... Dave
Raymond J. Barry ... Pop Cox
Margo Martindale ... Ma Cox
Jonah Hill ... Ghost of Nate
Ed Helms ... Concert Promoter
John Michael Higgins ... Recording Studio Executive
Jane Lynch ... TV Reporter
David Krumholtz ... Schwartzberg
Harold Ramis ... L'Chai'm
Martin Starr ... Schmendrick
Paul Rudd ... John Lennon
Jack Black ... Paul McCartney
Justin Long ... George Harrison
Jason Schwartzman ... Ringo Starr
Jack White ... Elvis Presley
Frankie Muniz ... Buddy Holly
Eddie Vedder ... Himself
Jackson Browne ... Himself
Lyle Lovett ... Himself
Jewel ... Herself
Ghostface Killah ... Himself
I swear, everyone is in this movie. It's ridiculous. One day it may challenge my
Jay & Silent Bob Strike Back
review
for sheer amounts of name-actors involved in it. That's something that many directors and producers can't effectively bring to the table like Judd Apatow can.
Walk Hard
was co-written by Apatow with Jake Kasdan, with Kasdan also occupying the director's chair on the film. It's intended as a cutting remark on the dead legendary rock star bio pics that have popped up on theatre screens the past few years, namely
Ray
and
Walk the Line
. I say "intended" because, well it hits about as often as it misses, and for a 96 minute-long movie, that definitely gives the movie an uneven feel to it.
The tale of Dewey Cox (Reilly) begins with the traumatic horror of a childhood which saw him cut his brother in half with a machete and later be forced to live with a "crippling" smell-blind disability. He parlayed these horrifying traumas into music, something which he became ridiculously talented at. Everything is seemingly played for groan-inducing laughs, with Reilly playing Cox from his teenage years to old age, and the script actually drawing attention to this. Dewey soon marries Edith (the awesomely talented Kristen Wiig) while their both still teenagers, and she starts popping out babies just as fast. All the while Edith is always tearing Dewey down, saying his music career will never amount to anything, even as he's fast on his way to becoming a music legend with his bandmates Theo (Parnell), Sam (Meadows) and Dave (Besser).
The movie steals from
Walk the Line
and
Ray
often, with Dewey soon falling in love with his duet partner Darlene (Fischer) and becoming heavily involved in drugs despite Sam's "unconvincing" warnings. The humour displayed throughout the movie is as broad as it can get without falling into the territory of a
Wayans Brothers movie
. It's pretty much as predictable as a movie can get, but still finds a way to mostly deliver in the entertainment department, particularly the awesome cameo performances by Apatow Alumni. My man crush on Paul Rudd continues to grow and Justin Long makes it two movies in a row impressing and not annoying me.
It's hard to categorize
Walk Hard
as one of the first mis-steps in Apatow's reign as Hollywood's most entertaining Hollywood producer. Firstly,
Walk Hard
is essentially a spoof film and usually those fall into the "love 'em or hate 'em" category. Second, while Apatow was a co-writer on the project, it wasn't something like
40-Year-Old Virgin
or
Knocked Up
where there was crude humour but loads of heart to balance it out.
Walk Hard
doesn't really focus on the likability of any of the characters, just on the funny. I really did enjoy the movie, but it's not one of those everlasting feel-good type movies that Apatow is known for banging out.
3 / 5
Current Mood:

annoyed

Current Music:

Tragically Hip - Scared